Who doesn't love Fort Lauderdale? This beautiful Florida town is an ideal family vacation spot, offering tons of kid-friendly activities and located only a three-hour flight from NYC. We visit here all the time, especially in the dark of winter. The lifestyle in this Miami-adjacent town is easy and the pace is slow. Because we visit it so often I am constantly looking for new and different things to do in Fort Lauderdale. I also love to explore the nearby area.
This article has been updated for 2021, to mark socially distant options for dining and entertainment. Look for this icon to spot those activities:
Please note: This blog post may contain some affiliate links. More info.
1. Stroll inside a fairy tale at Luminosa Chinese Lantern Festival
If you are visiting Fort Lauderdale around the holidays, my number one recommendation for a kid-friendly activity is the Luminosa Chinese Lantern Festival in Miami. This magical forest lights up every year from around Thanksgiving to the first week of February. In addition to strolling 13 acres of illuminated trails, you can also listen to live music, enjoy food and drinks, and even see a free acrobatic show. The forest is huge and the visitors spread over big areas, so Luminosa does not feel crowded.
Best hotels in Fort Lauderdale:
2. Indulge in delicious ice cream at Jaxson's Ice Cream Parlour
For my younger son, Jaxsons is paradise, for me – well its still pretty good. The most important thing to remember about Jaxsons is the size of the ice cream is only matched by the size of the lines to get the ice cream. Still, the 30 or so minutes you might wait online is a fun experience with live music and ice cream lovers camaraderie. And once you get to the magic order window, the wait will be worth it. This enormous ice cream was both delicious and cheap, a banana split big enough for four is about $14. And best of all, all the ice cream is made on premises from the freshest local ingredients so the quality is similar to Haagen Dazs or another premium brand.
And if you are feeling really brave, the restaurant next door offers even more Americana indulgences and lines that are a few hours long. Still, the tireless who wait for the restaurant will receive a just desert – a literal kitchen sink filled with ice cream. Jaxsons is conveniently located just a few minutes drive from Ft. Lauderdale.
Florida Vacation Travel Tip:
Are you traveling to Tampa Bay while on vacation in Florida? Check out city pass Tampa Bay, a great way to save money on top attractions such as Busch Gardens and the Florida Aquarium.
3. Dine and Watch the Sunset from Taverna Opa
Mid-priced eatery Taverna Opa in Hollywood Beach offers delicious food and friendly staff. But its claim to fame is the outside water seating – lining the intercoastal, these views offer a stunning perspective of the sunset. While in Florida, on our socially distant trip in 2021 (first in a year) this was our pick to celebrate my older son's 15th birthday. Solid Greek food (they are well known for meat and fish plates), friendly service, and of course stunning views, on a reasonable price tag (about $200 for 5 people) made it a no-brainer. To get the best seating show up for dinner early, around 6 pm. Unfortunately, the restaurant doesn't take outside reservations, but if you come in at 6 pm on a weekend or 6:30 on a weekday you should be able to secure a coveted water seat.
4. Explore History and Enjoy the Surf At Johnson State Park
The hidden away and uncrowded Johnson State Park is one of Florida's best-kept gems. Located about 30 minutes south of Ft. Lauderdale, the park offers uncrowded send, fishing spots, a kayaking rental place, and even a hidden bar, aptly named Whiskey Creek Hideout. Families really enjoy the forty-five-minute hiking trail through the subtropical coastal hammock, and nature lovers will appreciate the plethora of endangered Mangroves you can find here. Mangroves are a salt-tolerant tree that serves as a nursery for fish, crustaceans, and fish. The park also offers picnic areas and a spot to barbecue, so a visit here is an ideal way to make a day of it.
The park was named in honor of Dr. Von D. Mizell and Eula Johnson, two civil rights leaders who led the efforts to locate a public beach that would welcome people of color in the 1960s. At the time, most beaches in this area were whites only.
5. Enjoy an amazing milkshake at "Robert is Here Fruit and Farmstand"
Family-owned and operated since the 1950's "Robert is here fruit and farm stand" is a must-stop for a foodie or a vegan visiting south Florida. Although this is about an hour's drive outside of Fort Lauderdale, it's totally worth it. Packed to the brim with fresh fruits and vegetables it's a food lover's paradise. Must try: fruit-loaded milkshakes which taste like super fresh ice cream and juicy mangoes that the owner cuts up fresh in front of you. Also, pick up some incredible guacamole made fresh on-premises (pair with the local corn chips). There is an adorable free petting zoo in the back and this may be the only place in Florida where you can find tortoises playing with goats. Combine this attraction with the nearby Alligator Farm located only a couple of minutes away.
Looking for more family-friendly vacation ideas? Check out "20 Best Resorts in North Carolina."
6. Feed the flamingos and see a wildlife sanctuary at the Flamingo Gardens
Flamingo Gardens in South Florida is a sprawling aviary rescue complex. In addition to countless resident birds, you'll also find a botanical garden and a breed and release program for rare birds. This wonderful attraction occupies several well-maintained acres a bit south of Miami. Walk around the grounds a bit and you'll discover several huge trees more than a hundred years old. Among them are 21 certified champion trees (the largest trees of their kind). After you explore the grounds, visit the feeding presentation (takes place 3 times a day), which is both adorable and educational. This not-for-profit facility is supported entirely by ticket sales and donations, so you can feel good about where your money is going.
Florida Travel Tip:
Are you traveling to multiple locations, in Florida and beyond? Check out the USA sightseeing pass. With this pass, you can select attractions you want to visit Florida and in the USA. Pay online for your selected attractions, and save close to 50% off admission. The USA sightseeing pass gives you an opportunity to create your own discount package – a really good deal.
7. Stroll around the beautiful Vizcaya Museum and Gardens
Vizcaya was originally constructed as the Florida winter estate of a wealthy businessman. Today this enormous museum and garden is open to the public and offers stunning interior and exterior spaces you can explore for hours. As the inspiration for this property came from the great estates of Europe, many bedrooms are Europe-themed. Themes include Marie Antoinette, Venice, and Pompeii. After you explore the inside, step outside into Vizcaya's extensive gardens. You can easily spend a day here, wandering the shaded trails or reading a book in a quiet spot. My kids particularly enjoyed the maze and pirate ship relics we found while exploring the grounds.
Florida Travel Tip:
Ever thought about taking an RV family trip? Outdoorsy is the largest RV rental market in the world. Check out great RV rental options in Florida – for a family adventure you will never forget. Renting an RV can be a great way to save money too since you won't need to rent a hotel or a car.
8. Eat at Food Truck night in Young Circle in Hollywood
A list of things to go in Fort Lauderdale can never be complete without great places to eat. Every Monday night the Hollywood based Young Circle park hosts a food truck night. More than 40 trucks arrive to serve every type of cuisine – from Cuban to seafood, Americana to Brazilian. The event starts at 6 pm and goes until 11 pm every week. In the same park, you will find a unique kids' playground – an awesome way to release after-dinner energy. Walk towards the edge of the park and check out the permanent glass blowing workshop and store. You can even make your own work of art here – a unique way to end a great evening.
9.  Play at the Science Museum of Fort Lauderdale
Museum of Discovery and Science located in Fort Lauderdale is the quintessential children's science museum packed to the brim with a plethora of kid-friendly activities and fascinating exhibits. Even my two, who have been spoiled with extraordinary things to see and do, found the place fascinating running from exhibit to exhibit for hours. Of particular interest is the 7 dimension theater, the IMAX, 3d printer workshop, and of course this awesome snapping alligator turtle. Stop by here on your visit with kids to southern Florida for a great educational activity while traveling. This place is a fantastic option if you have hit a rare stormy or rainy day while on your vacation in Florida.
Florida Travel Tip:
Will you be renting a car in Florida? Check out major car rental aggregate websites and compare prices to save. Some of my favorites are Travelocity, Skyscanner, and Hotwire.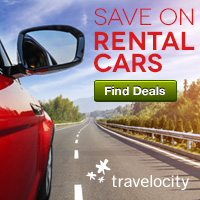 10. Dine deliciously at Mizumi Sushi Buffet (yes, seriously).
I have to admit, of all the things I ever thought I'd recommend, a visit to a sushi buffet is just about the last on the list. Yet, here I am recommending a sushi buffet. I know, I know… hear me out. Mizumi Sushi is actually really good, super fresh, offers an amazing variety and, most importantly, is super clean. I visited the restaurant because our friends insisted we try it, and even as a total sushi snob I was not disappointed. Although the rolls are not fancy, the fish is very fresh and expertly prepared. In addition to sushi, you'll find a great selection of Chinese food and desserts from around the world. The lines, too, speak to the quality of the food. To beat the rush come in at 5 pm (opening time) or take your chances with a wait time of up to an hour. Mizumi Sushi is located near Sunny Isles, about half an hour outside of Fort Lauderdale.
11. Try to solve the mystery of the Coral Castle
Edward Leedskalnin, an eccentric freemason, created Coral Castle more than 60 years ago. He constructed the structure entirely by hand, out of limestone. Many people know the Coral Castle as America's Stonehenge but in essence, it's a giant rock dollhouse. Edward constructed the house to accommodate his family (he didn't have one). While at Coral Castle you can't help but marvel at Edward's genius and madness. Using nothing more than than the most primitive rock carving and engineering tools the structure includes bedrooms, a throne room, a bathtub, and even a "punishment room" supposedly created for his future wife. Edward built mostly during the night and adorned his rock castle with Freemason symbols. Perhaps it was those symbols or the fact that he worked only at night, but legend says he was assisted by aliens in the project. Several TV shows have filmed here, all attempting to decipher this eccentric achievement of one man's genius, or else madness.
Florida Travel Tip:
Prefer to rent a house rather than stay at a hotel in Florida? Check out VRBO Florida for lists of beautiful homes available for rent. This works great for a family or several families traveling together.
12.  Meet the dinosaur's relatives in an alligator farm
Everglades alligator farm is located on South Florida's on the Red Land Tropical Trail. The farm features several exhibits where you can watch hundreds of alligators at different stages of life. While here, you can also enjoy a ride on the motorboat through the swamplands. During the tour, you will encounter wild alligators, softshell turtles, and countless birds. If you plan on visiting the alligator farm wear clothes that will dry easily because you will almost certainly get wet, especially if you seat in the front of the boat. Ideally, get to the farm by 12 and you'll catch all three shows (snake show, alligator show and the feeding of alligators). The Alligator Farm is located about one hour drive from Fort Lauderdale. Although a bit of a commute, this unique experience is definitely worth it.
Florida Travel Tip:
Florida water is beautiful! Help keep it beautiful for generations to come – Don't forget to bring coral safe sunblock on your vacation!
13.  Visit "Butterfly World"
Butterfly world is a unique attraction and a great place to take the smallest Florida visitors. Situated almost entirely in the fresh air, the attraction includes 13 distinct areas. In addition to butterflies, you'll get to see plenty of other insects, and (unsurprisingly) lots of birds. Make sure you have lots of space on your phone or camera to take pictures. Wear bright clothes in yellows, reds and blues and the butterflies will be more likely to land on you. Butterfly World is located about 20 minutes drive outside of Fort Lauderdale.
For more amazing family-friendly vacation ideas check out our "Favorite Resorts in North Carolina."
One last thing…
If you made it this far, I have an easy favor to ask. Please
click here
(this will take you to the
homepage
). This last click at the end of the page lets search engines know you enjoyed the article and read all the way to the bottom. It's like a vote of confidence and
really helps me out
. Thank you so much for reading see you on the road,
Viktoria
aka Traveltipster.